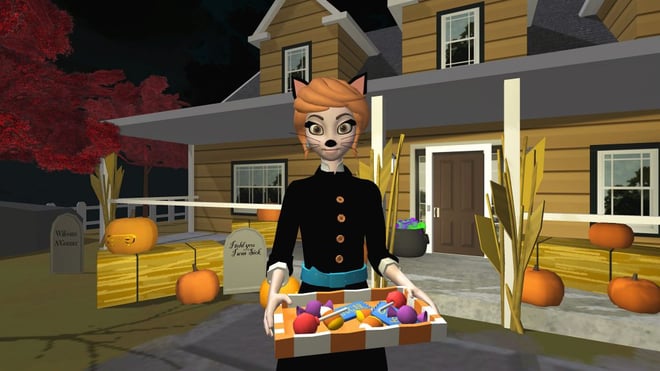 Looking for a fun way to celebrate Halloween with your Floreo Learner? In most locations across the U.S. this year, trick-or-treating at neighborhood houses will be out of the question, but if you are looking for a substitute, Floreo may be the answer.
The Floreo Halloween Learning Card was designed to teach the custom of trick-or-treating, but it could be re-purposed in this season of physical distancing. For Learners who might be disappointed at missing this tradition, Floreo can be a way to let kids participate in trick-or-treating from the safety of their homes.
Our Director of Therapy Content, Rita Solórzano MA CCC-SLP, suggests you try this:
1. Have the Learner dress up in his or her favorite spooky, magical or inspirational costume.
2. Provide him or her with a (real-life) collection bag.
3. Start the Floreo VR session and ask the Learner to move through the Halloween scene as expected.
4. When the Learner looks at Emma's candy tray in VR, the virtual candy will float into the Learner's virtual bag. Simultaneously, the Coach can put a piece of real candy in the Learner's real-life bag.
5. When the Learner finishes the VR scene, he or she will find the candy in his or her bag.
6. To make it extra fun, the adults can dress up in costume too!
For nonverbal individuals, the Coach may want to provide the individual an index card to show "Trick-or-Treat" and "Thank you" and prompt those phrases at the appropriate times.
Expand the lesson: describe the decorations on the porch; describe Emma's costumes; describe what kind of candy you see in the tray.
For more ideas on using our lessons outside of their designed objectives, check out the "hidden opportunities" document on our Resources page.