We are thrilled to announce that ACES, a leading behavioral therapy services provider and Floreo have begun a pilot initiative to provide Floreo's pioneering VR technology for ACES' client population.
"ACES is committed to providing comprehensive autism therapy and intervention services to help individuals maximize their potential, and incorporating Floreo's innovative technology will enable us to further deliver on our mission," said Ashley Drag, Senior Vice President of Clinical Services and Innovation at ACES.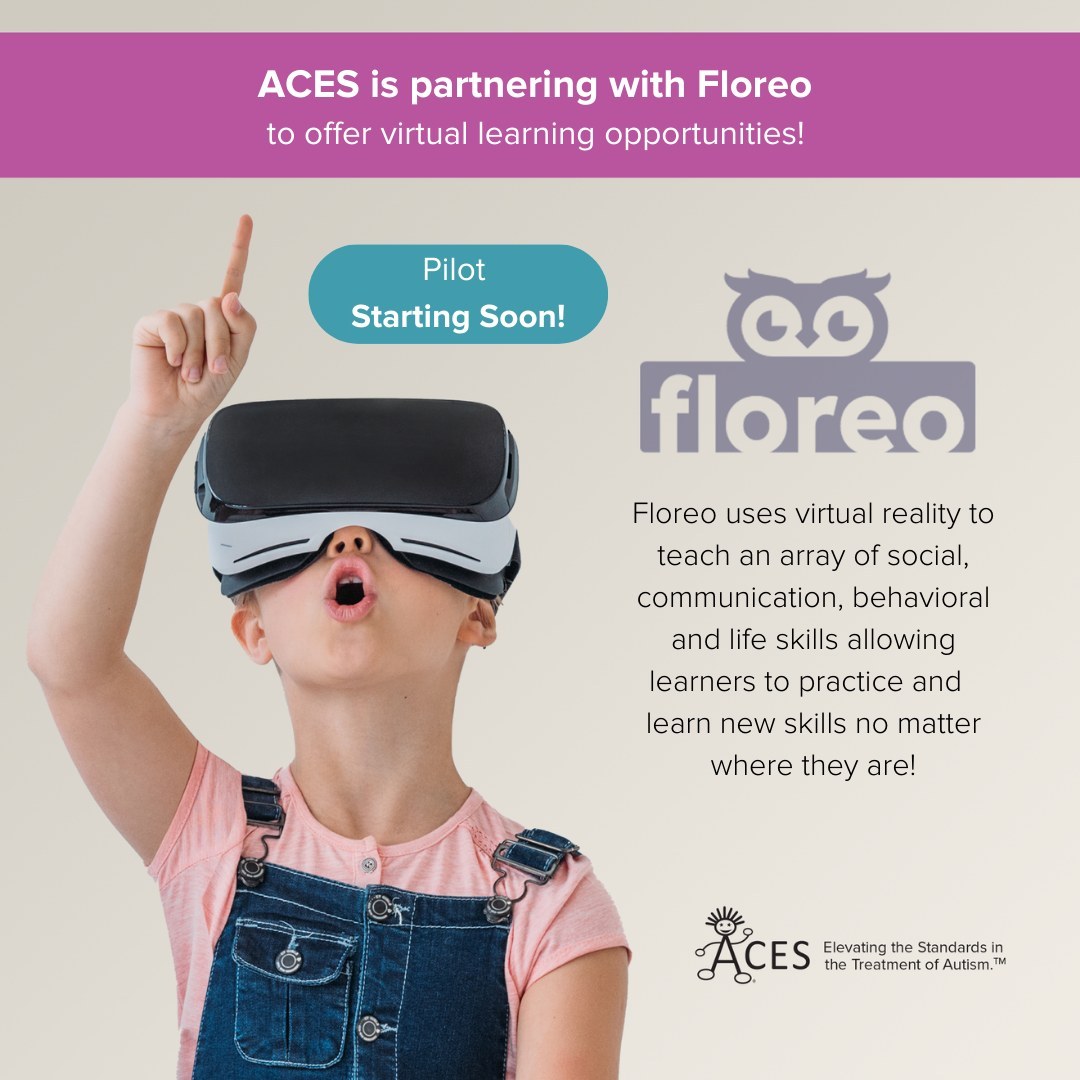 Upcoming Events
CATCH US AT AN EVENT NEAR YOU
Let us know if you are attending an upcoming event. We would love to connect with you!
New Partnerships
THE FLOREO COMMUNITY CONTINUES TO GROW
A warm welcome to our newest partners at Mainland Regional High School (NJ) and O'Brien CMC (NY), who just signed up to begin their Floreo programs. We look forward to helping you serve the needs of your clients, students and communities!
And huge congratulations to Monroe Township School District (NJ), Changing the Lives of Children with Autism (MD), ABA Interventions (TN) who all just signed up to continue their Floreo programs! This will be Monroe Township's second school year with Floreo, and Changing the Lives of Children with Autism and ABA Interventions are each starting their third year with us.
Are you ready to join the Floreo family? We would love to discuss implementation in your school, district, or practice!
Self regulation in the classroom
HOW FLOREO CAN HELP
Marsha Stepensky, MS.Ed, BCBA, is a Therapy Content Producer at Floreo and a former special education teacher. She knows firsthand the benefits of having a space in your classroom where students can take time if they are feeling overwhelmed or need a quiet spot to regulate their emotions. This article has some great tips for creating a self-regulation space in your classroom, including design ideas and items you may want to consider having available.
And we would also add Floreo as a great option for your space too! Our Emotional Regulation lessons, including our yoga lessons, guided meditations, and sensory spaces like Hang Out in the Aquarium or Snowfall can be used as a mobile sensory room and provide your students with an immersive experience to self-regulate.
Attention Medicaid Families
FLOREO SUBSCRIPTIONS MAY BE COVERED
Did you know that in Wisconsin and New York families on Medicaid waivers initiated full reimbursed coverage of Floreo in the home?
If your family receives services in your state using a Medicaid waiver, you might be able to get a Floreo subscription (including equipment rental) fully covered by your state program. Reach out to us, and let's work together to see how we can get Floreo into your home and start making a difference for your Learner.
Funding ideas
HOW CAN WE HELP YOU GAIN FUNDING FOR FLOREO?
We know that budgets can be tight and we want to help get Floreo into the hands of anyone who needs it! Please let us know if you need help writing up your DonorsChoose application or with information for a grant you have identified.
IDEA and Title I funds are also great sources to help you access a Floreo subscription.
What have we been reading this week?
NEWS ROUND-UP