We have heard from many customers that our Join a Conversation lesson has been a favorite for both Coaches and Learners alike. Last year, we introduced more topics of conversation and a randomization aspect after hearing from customers that they were tired of talking about pizza -- the only conversation that was then available. We added 10 additional topics of conversation and heard from many that this was a great improvement!
But we've also continued to hear that we could make things even better! Coaches wanted to be able to control the pacing of the lesson, choose the topic instead of relying on the randomization, and have a conversation in a different environment. As you have probably heard us mention before, we take customer suggestions very seriously, and that's why we are proud to announce that we have addressed these suggestions in our latest content release.
---

New Content
CHECK OUT OUR LATEST LESSONS
New (and improved!) Lessons: Join a Conversation: Cafeteria and Join a Conversation: Park
Who it is for: Learners of all ages
What's new: Find updated, improved conversation lessons, now in the park as well as in the cafeteria. Join a Conversation: Park places the Learner in a brand new environment, designed to help the Learner attend to and join a conversation with peers in a park setting. Choose from 11 different conversation topics, the amount of background noise for your Learner to experience. This new design allows the Coach to adjust the pace of the lesson as needed for the Learner.
Join a Conversation: Cafeteria is a redesign of the original "Join a Conversation" lessons, and now allows the Coach to better individualize the experience for the Learner.
Join a Conversation: Cafeteria can be found in the "School Social" skill category. Both Join a Conversation: Cafeteria and Join a Conversation: Park can be found in the "Conversational Skills" category.
We hope you will keep your suggestions coming! We are always working to improve your Floreo experience.
Consider pairing with: Our Greetings and Small Talk lessons to help your Learner practice a range of conversational skills!

Find these new lessons in the Conversational Skills category once you have the latest version of Floreo! If you haven't yet had a chance to download the latest version of Floreo, it's a good time to do it! You can find it in the iOS app store by clicking this link. If you have Floreo rental equipment, make sure to turn it on, connect it to WiFi and let the update download before opening the app.

If you haven't yet subscribed to Floreo, we would love to discuss subscription options with you. And if you or your staff would like to talk through the new content or any of the changes we've recently made, please reply to this email to set up time to speak to a member of our team!
---
New Partnerships
THE FLOREO COMMUNITY CONTINUES TO GROW
A warm welcome to our newest partners at Lower Pioneer Valley Educational Collaborative (MA), Naturalistic Learning Center (CT), IVDU Long Island (NY), and Canon-McMillan School District (PA) who just signed up to begin their Floreo programs. We look forward to helping you serve the needs of your clients, students, and communities!
Are you ready to join the Floreo family? We would love to discuss implementation in your school, district, or practice!
---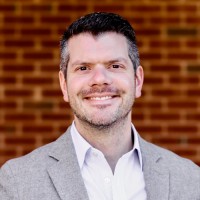 Meet the team

SPOTLIGHT ON FLOREO'S VP OF ENTERPRISE
Floreo's VP of Enterprise, Stephen Donaldson, has been in the neurodiversity space for about 15 years in a variety of roles, but most recently as the co-founder of DataFinch Technologies (creator of the Catalyst data-collection platform). He has dedicated his career to building technology that helps clinicians, educators and caregivers optimize their efforts to improve outcomes for those they care for.
In his role at Floreo, Stephen helps coordinate all of the sales, marketing, customer experience and operations around our enterprise customers. And in his free time, he is also a drummer and plays in venues around the southeast. He loves to travel, play tennis and golf, but doesn't get to do any quite as often as he would like. Stephen lives outside of Atlanta with his wife, three teen and tween girls, and two golden doodles, and is our in-house expert at translating text speak and emojis!
---
Funding ideas

HOW CAN WE HELP YOU GAIN FUNDING FOR FLOREO?
We know that budgets can be tight and we want to help get Floreo into the hands of anyone who needs it! If we can help write up your DonorsChoose application (teachers) or provide information for a grant you have identified (anyone!) please let us know.
---
What have we been reading this week?
NEWS ROUND-UP