Are you a teacher in the middle of writing IEP goals for your students? What about making a few of your students' objectives something you can accomplish within Floreo! Your students might need to work on conversational skills, or street crossing, or responding to auditory information. There are hundreds of goals and objectives for which Floreo is designed to address and measure.
If you would like our help to find goals specific to your students, please reply to this email! And parents, now is a good time to reach out to your school or district to let them know they should adopt Floreo to use with your child. With the Immersive Learning Program, it is easier for schools than ever. If the students at Canon McMillan High School (PA) are any indication (check out their recent tweet), your students will love it! Contact us.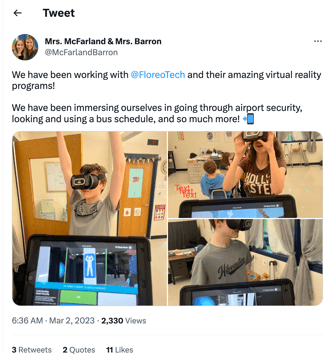 ---
Landmark Supreme Court Ruling
A SUMMARY FROM FLOREO'S GENERAL COUNSEL
Denise Garcia, Esq. is a woman of many hats! At Floreo, she's our VP, General Counsel and also spearheading our market access efforts. Additionally, she's a busy mom of four, including adult twins who have autism, and travels often with her singer-songwriter daughter Calista when she is on tour (check her out!). Denise recently took the time to summarize the case detailed in this article.
"In a landmark ruling the Supreme Court held that a deaf student -- who for years was denied aides proficient in sign language -- could pursue a lawsuit for damages under the Americans with Disability Act (ADA) even though he had previously settled a claim against the school under the Individuals with Disabilities Education Act (IDEA).
This unanimous ruling clarified for the first time that students with disabilities and their families are no longer limited to pursuing slow moving administrative actions against school districts under IDEA, but can take their claims to court to pursue damages under other federal laws such as ADA."
---
Exciting opportunity for educators
FLOREO IMMERSIVE LEARNING PROGRAM
We are thrilled to announce the Floreo Immersive Learning Program, a unique opportunity for schools to bring Floreo to neurodiverse students.
In collaboration with Meta, the program is for neurodiverse students ages 13 and above and includes free Meta Quest 2 headsets for classrooms. In addition, we are providing a Floreo Classroom Bundle for the low setup cost of only $250 through the 2023/2024 school year for participating schools.
Please share with your favorite educators and schools. We are so excited to help get more technology into the hands of very deserving schools. There is a short application process and schools interested in learning more can click here.
---
New Partnerships
THE FLOREO COMMUNITY CONTINUES TO GROW
A warm welcome to our newest partners at Madera High School South (CA) who just signed up to begin their Floreo program. We look forward to helping you serve the needs of your students and community!
And a huge congratulations to Enner Glynn School (New Zealand) who just signed up to continue their Floreo program for a third year.
Are you ready to join the Floreo family? We would love to discuss implementation in your school, district, or practice!
---
In case you missed it...
NEW OPTION FOR CLINICS
Last summer, Floreo sponsored the application for a new CPT III Code that went into effect January 1, 2023. Code 0770T is an add-on code that represents the practice expense for the software used for the VR technology and may be reported for each session for which VR technology is used. VR technology is incorporated into the base therapy session and is used to enhance the training or teaching of a skill upon which the therapy is focused.
If you are interested in incorporating this CPT III code into your practice's billing procedure, please let us know. We have some tips for outreach that may be helpful for you.
---
Events
MEET THE FLOREO TEAM AT UPCOMING EVENTS
If you are attending any upcoming events, let us know, we would love to set up time to meet with you!
---
Funding ideas

HOW CAN WE HELP YOU GAIN FUNDING FOR FLOREO?
We know that budgets can be tight and we want to help get Floreo into the hands of anyone who needs it! If we can help write up your DonorsChoose application (teachers) or provide information for a grant you have identified (anyone!) please let us know.
IDEA and Title I funds are also great sources to help you access a Floreo subscription. As you start thinking about budgets for 2023-24, consider adding in Floreo!
---
What have we been reading this week?
NEWS ROUND-UP