Telehealth has been an important part of Floreo's offerings since we started offering it as a modality right before the COVID-19 pandemic shut down the world. We had already been working on it prior to COVID, but the pandemic really highlighted the need for a telehealth option that also incorporated Floreo. As the world has reopened, telehealth remains an important factor in reaching underserved communities around the world. Floreo's telehealth work as well as the work we have done in Wisconsin under the Children's Long-Term Support waiver was highlighted in a blog post on the World Economic Forum's blog.
We continue to grow Floreo's product and offerings with the ultimate goal of making important services and education more accessible and affordable to support neurodiverse individuals and their families.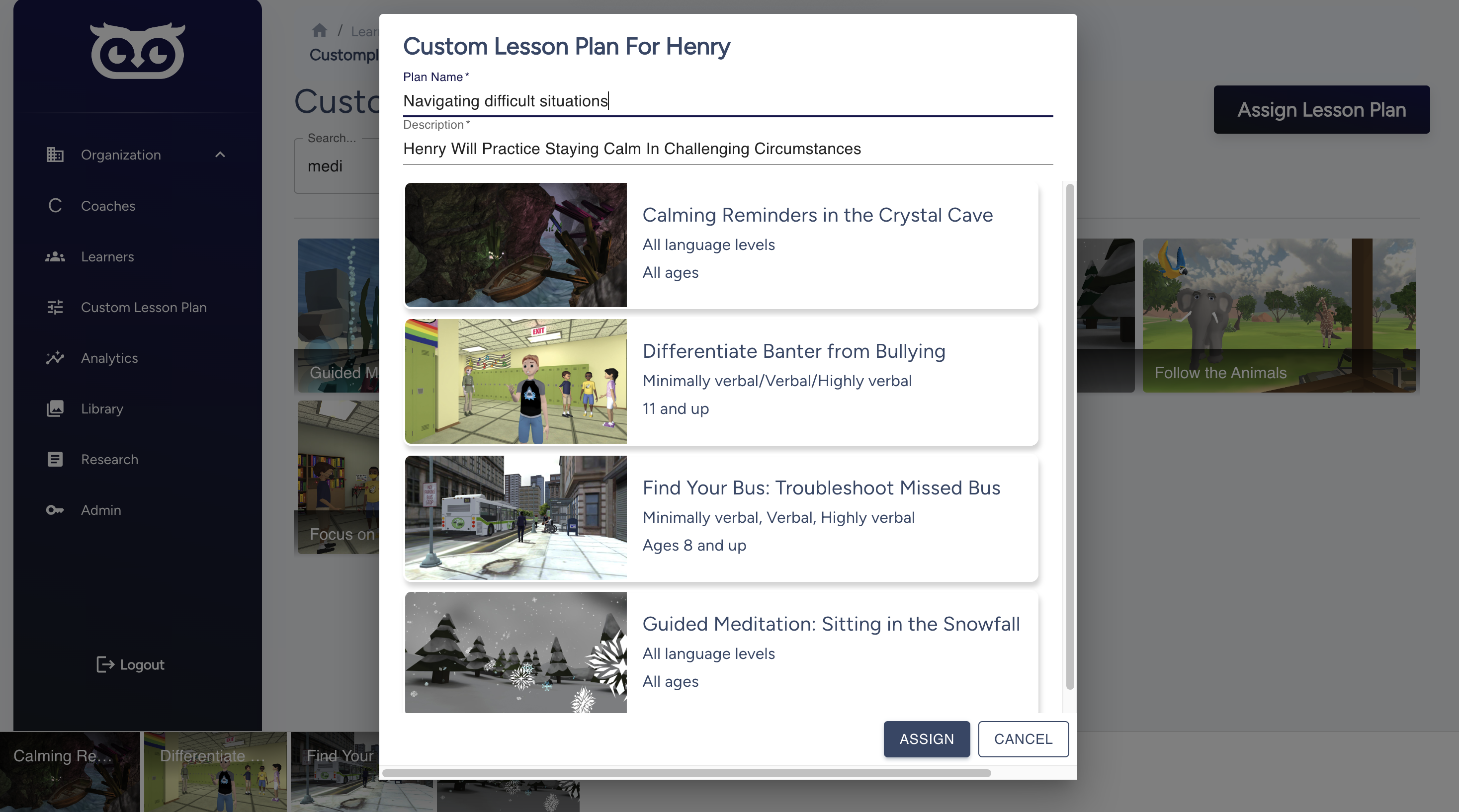 New Floreo Feature
MULTIPLE CUSTOM LESSON PLANS
If you are a Floreo customer you may already be familiar with Floreo's custom lesson plan feature in the Floreo portal which gives Coaches the ability to make their own Floreo skill category for each of their Learners. This is a great way to highlight favorite lessons or create a treatment plan that someone else might implement: for example, a teacher or BCBA creates the plan, but a paraprofessional or RBT actually uses Floreo with the Learner.
We are pleased to share that each Coach can create multiple custom lesson plans for each of their Learners. And, you can create lesson plans that you apply to all of your Learners! These features are based on customer feedback and we are so pleased to have them in place to make things easier on our Coaches!
Don't forget to visit the Floreo portal for your Learner reports too!
We would love to hear from you! What would you like to see us build next?
Upcoming Events
CATCH US AT AN EVENT NEAR YOU
Let us know if you are attending an upcoming event. We would love to connect with you!
New Partnerships
THE FLOREO COMMUNITY CONTINUES TO GROW
A warm welcome to our newest partners at Chicopee Public Schools (MA) who just signed up to begin their Floreo program. We look forward to helping you serve the needs of your students and community!
And a huge congratulations and thank you to New Canaan Public Schools (CT), who are embarking on their 4th consecutive year with Floreo! We look forward to helping make a positive difference for your Learners this year.
Are you ready to join the Floreo family? We would love to discuss implementation in your school, district, or practice!
Attention Medicaid Families
FLOREO SUBSCRIPTIONS MAY BE COVERED
Did you know that in Wisconsin and New York families on Medicaid waivers initiated full reimbursed coverage of Floreo in the home?
If your family receives services in your state using a Medicaid waiver, you might be able to get a Floreo subscription (including equipment rental) fully covered by your state program. Reach out to us, and let's work together to see how we can get Floreo into your home and start making a difference for your Learner.
Funding ideas
HOW CAN WE HELP YOU GAIN FUNDING FOR FLOREO?
We know that budgets can be tight and we want to help get Floreo into the hands of anyone who needs it! Please let us know if you need help writing up your DonorsChoose application or with information for a grant you have identified.
IDEA and Title I funds are also great sources to help you access a Floreo subscription.
What have we been reading this week?
NEWS ROUND-UP