Over the years, we have had many different types of requested Floreo experiences and a lot of them have made it into the app already! One of our most frequent asks is to provide the Learner with an experience in the doctor's office. We are pleased to share this sneak peek of the upcoming Floreo doctor's office experience! Stay tuned for more details and a release announcement in the upcoming weeks.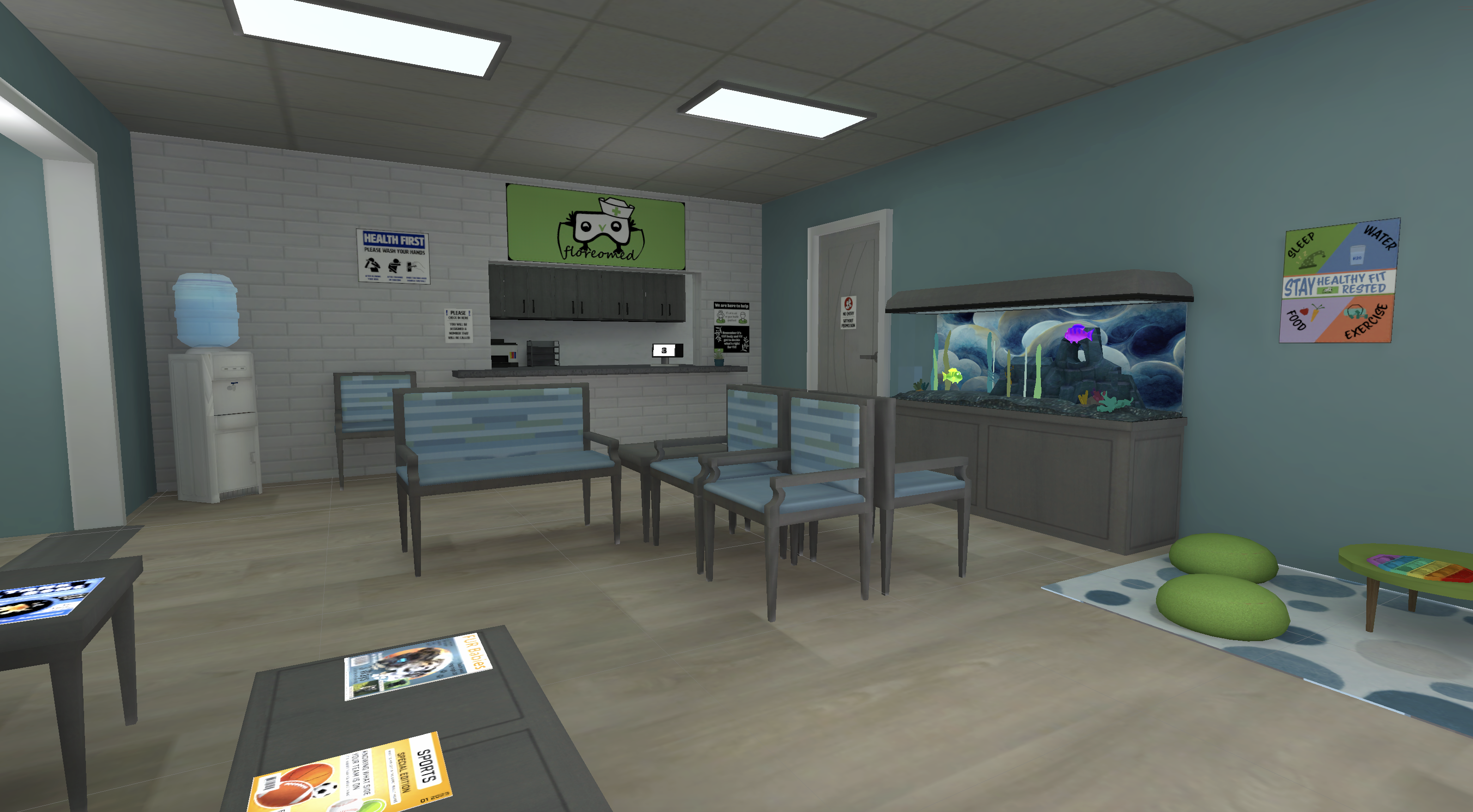 ---
Exciting opportunity for educators
FLOREO IMMERSIVE LEARNING PROGRAM
We are thrilled to announce the Floreo Immersive Learning Program, a unique opportunity for schools to bring Floreo to neurodiverse students.
In collaboration with Meta, the program is for neurodiverse students ages 13 and above and includes free Meta Quest 2 headsets for classrooms. In addition, we are providing a Floreo Classroom Bundle for the low setup cost of only $250 through the 2023/2024 school year for participating schools.
Please share with your favorite educators and schools. We are so excited to help get more technology into the hands of very deserving schools. There is a short application process and schools interested in learning more can click here.
---
New Partnerships
THE FLOREO COMMUNITY CONTINUES TO GROW
A warm welcome to our newest partners at The School District of Palm Beach County (FL) just signed up to begin their Floreo program. We look forward to helping you serve the needs of your students and communities!
Are you ready to join the Floreo family? We would love to discuss implementation in your school, district, or practice! Contact us.
---
In case you missed it...
NEW OPTION FOR CLINICS
Last summer, Floreo sponsored the application for a new CPT III Code that went into effect January 1, 2023. Code 0770T is an add-on code that represents the practice expense for the software used for the VR technology and may be reported for each session for which VR technology is used. VR technology is incorporated into the base therapy session and is used to enhance the training or teaching of a skill upon which the therapy is focused.
If you are interested in incorporating this CPT III code into your practice's billing procedure, please let us know. We have some tips for outreach that may be helpful for you.
---

Events
MEET THE FLOREO TEAM AT UPCOMING EVENTS
If you are attending any upcoming events, let us know, we would love to set up time to meet with you!
---
Floreo's Lead Self Advocate at CASY Sparks Autism Research Community events
AUTHOR TALKS
Floreo Advisor and Lead Self Advocate, Sam Farmer, is an autism spectrum community self-advocate, writer/author, and public speaker.
Sam recently wrapped up a series of author talks for the CASY Sparks Autism Research Community at Yale University. We invite you to watch each compelling video:
---
In Memoriam
Floreo lost an early supporter late last month. Laura Witt, an accomplished venture capitalist, provided invaluable advice and encouragement to me as I was getting Floreo off the ground. With a personal connection to Floreo's mission, Laura helped validate that this could be a great double bottom line business. She was lost way too early and our thoughts are with her family.
---
Funding ideas

HOW CAN WE HELP YOU GAIN FUNDING FOR FLOREO?
We know that budgets can be tight and we want to help get Floreo into the hands of anyone who needs it! If we can help write up your DonorsChoose application (teachers) or provide information for a grant you have identified (anyone!) please let us know.
IDEA and Title I funds are also great sources to help you access a Floreo subscription. As you start thinking about budgets for 2023-24, consider adding in Floreo!
---
What have we been reading this week?
NEWS ROUND-UP