We are constantly working to make Floreo even better: we adjust lessons, improve the experience, and release features and lessons based on customer feedback. We are thrilled to announce that we just launched a "custom lesson plan" feature within all customers' Floreo portals. This feature will allow Coaches to create a personalized row of lessons for each of their Learners.
Our lesson library has almost 200 Floreo experiences (and growing!) and this feature will make it easier to quickly find the lessons you want to work on with your Learner, assign Floreo as homework, or create a plan for another colleague to implement with the Learner.
We can't wait to hear what you think!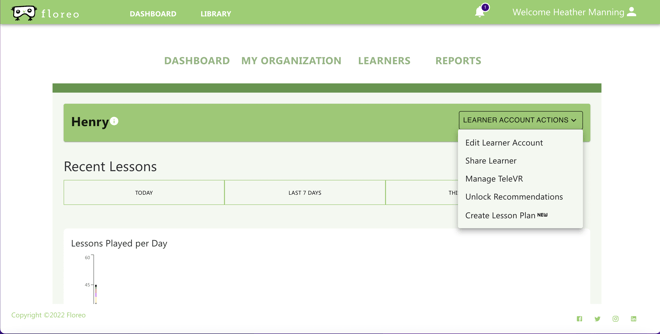 New Partnerships
THE FLOREO COMMUNITY CONTINUES TO GROW
A warm welcome to our newest partners at Bancroft (multiple states) who just signed up to begin their Floreo program. We look forward to continue helping you serve the needs of your clients and communities!
Are you ready to join the Floreo family? We would love to discuss implementation in your school, district, or practice!
In case you missed it...

RESEARCH PRESENTATION
Juan Pacheco, a graduate student at Saint Joseph's University, presented his study on Improving a Virtual Reality Cognitive-Behavioral Police Safety Intervention for Autistic People of Color Living in Urban Areas at the Annual Convention of the Association for Behavioral and Cognitive Therapies, New York City. Juan has conducted this study in collaboration with colleagues at Floreo and the Center for Autism Research at Children's Hospital of Philadelphia.
---
Funding ideas

HOW CAN WE HELP YOU GAIN FUNDING FOR FLOREO?
We know that budgets can be tight and we want to help get Floreo into the hands of anyone who needs it! If we can help write up your DonorsChoose application (teachers) or provide information for a grant you have identified (anyone!) please let us know.
IDEA and Title I funds are also great sources to help you access a Floreo subscription. As you start thinking about budgets for 2023-24, consider adding in Floreo!
---
What have we been reading this week?
NEWS ROUND-UP