We are delighted to share our latest content release: Magic Mix: Who's Next? Designed to help your Learners practice important skills like taking turns, waiting, and communication, and this whimsical lesson introduces three brand new characters: Ayanna, Alejandro, and Myra. We can't wait to hear what you think!
Floreo Digital Roundtable
JOIN US FOR THIS EXCITING EVENT
We are thrilled to invite you to attend Floreo's inaugural Digital Innovation Roundtable Event featuring a panel of renowned industry leaders.
What it's about: Technology innovations such as virtual reality and wearables have begun to transform the delivery of behavioral therapy and developmental services for neurodiverse populations. Evidence demonstrates high levels of engagement among learners and the potential for improved outcomes. Our panel will discuss key trends, implications for therapy providers, what's needed for further adoption, and the promise of these technologies.
When: October 18, 2023 12PM-1PM EST
Where: Event will be virtual via video
Moderator: Anastassia Gliadkovskaya, Reporter, Fierce Healthcare
Panelists: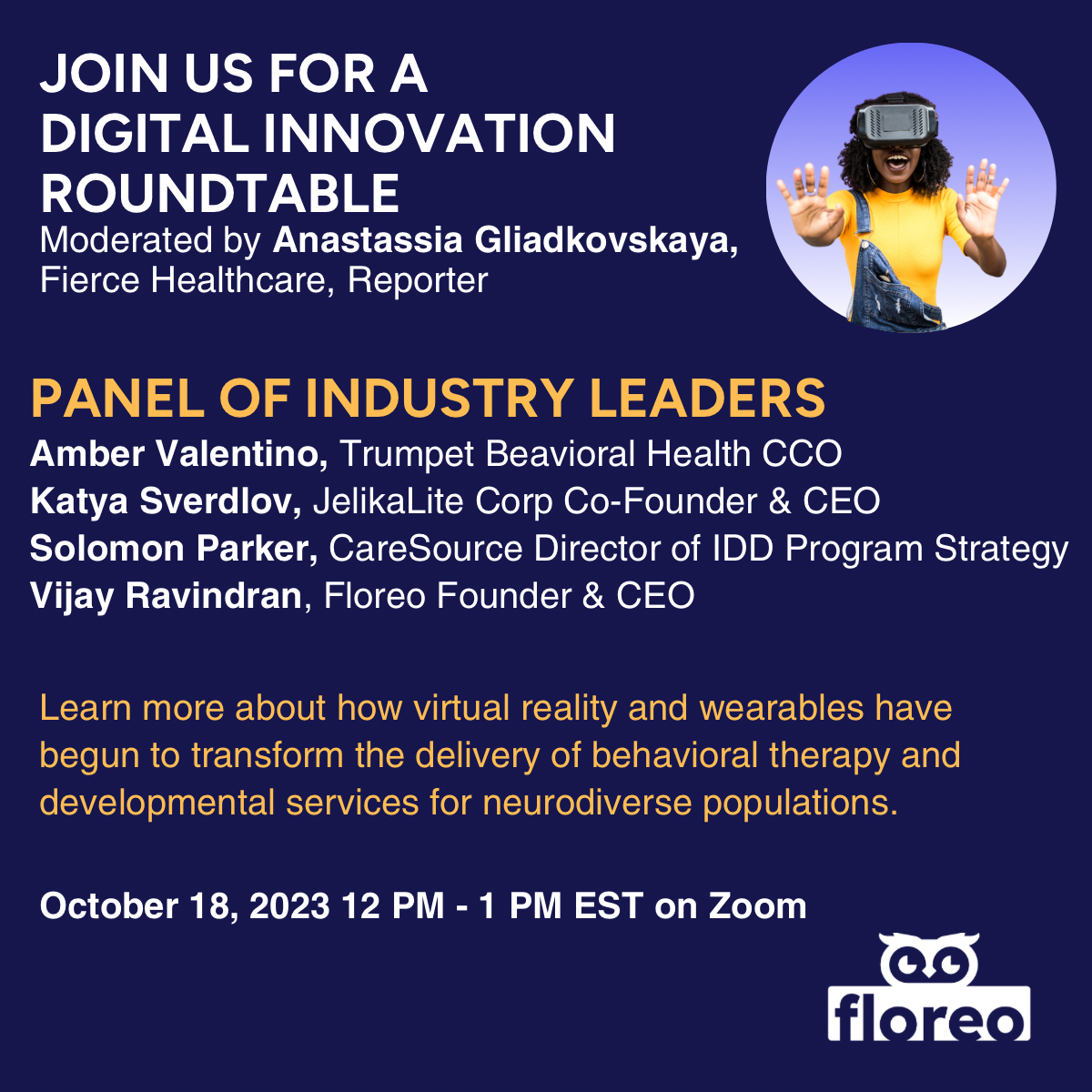 Upcoming Events
CATCH US AT AN EVENT NEAR YOU
Let us know if you are attending an upcoming event. We would love to connect with you!
New Partnerships
THE FLOREO COMMUNITY CONTINUES TO GROW
A warm welcome to our newest partners at Ontario Local Schools (OH), Princeton Child Development Insitute (NJ), and Live Inspired (WY) who just signed up to begin their Floreo programs. We look forward to helping you serve the needs of your clients, students, and communities!
And huge congratulations to Redlands Unified School District (CA) and Jefferson-Morgan School District (PA) who just signed up to continue their Floreo programs! We are looking forward to continuing to make a difference for their students!
Are you ready to join the Floreo family? We would love to discuss implementation in your school, district, or practice!
Attention Medicaid Families
FLOREO SUBSCRIPTIONS MAY BE COVERED
Did you know that in Wisconsin and New York families on Medicaid waivers initiated full reimbursed coverage of Floreo in the home?
If your family receives services in your state using a Medicaid waiver, you might be able to get a Floreo subscription (including equipment rental) fully covered by your state program. Reach out to us, and let's work together to see how we can get Floreo into your home and start making a difference for your Learner.
Funding ideas
HOW CAN WE HELP YOU GAIN FUNDING FOR FLOREO?
We know that budgets can be tight and we want to help get Floreo into the hands of anyone who needs it! Please let us know if you need help writing up your DonorsChoose application or with information for a grant you have identified.
IDEA and Title I funds are also great sources to help you access a Floreo subscription.
What have we been reading this week?
NEWS ROUND-UP