Recently, Dr. Catherine Lord, the George Tarjan Distinguished Professor of Psychiatry at the Semel Institute of Neuroscience and Human Behavior at the David Geffen School of Medicine at UCLA, took the time to give us her initial feedback based on her experience using Floreo with learners. Dr. Lord co-developed the Autism Diagnostic Observation Schedule (ADOS) and the Autism Diagnostic Interview-Revised (ADI-R), which are together considered the "gold standard" in the diagnosis of autism spectrum disorder.
Dr. Lord said, "Our clinical team has just begun to use Floreo and have been impressed at how much the community vignettes engage them, give them practice and promote discussion of real issues in their lives."
It is always gratifying to hear from our customers. The positive feedback and stories about engaged Learners are so inspiring for our team and we truly appreciate when our partners take the time to write testimonials about Floreo. Have you had a great experience with Floreo? We would love to hear from you!
---
New CPT III Code Active
NEW OPTION FOR CLINICS
Last summer, Floreo sponsored the application for a new CPT III Code that went into effect January 1, 2023. Code 0770T is an add-on code that represents the practice expense for the software used for the VR technology and may be reported for each session for which VR technology is used. VR technology is incorporated into the base therapy session and is used to enhance the training or teaching of a skill upon which the therapy is focused.
If you are interested in incorporating this CPT III code into your practice's billing procedure, please let us know. We have some tips for outreach that may be helpful for you.
---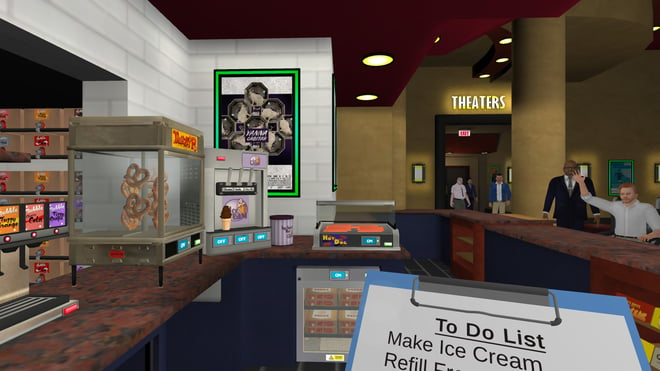 ---
In case you missed it...
NEW CONTENT
New Lessons: Time Management: Organizational Habits, Time Management: Multitasking, and Time Management: Interruptions and Distractions
Who it is for: Learners age 14+
What's new: Welcome to the Floreo movie theater! A brand new and engaging environment for your Learner to explore and practice essential employment-related skills.
Time Management: Organizational Habits: Learners are transported to their job at the movie theater where they will need to prepare the concession stand for customers. Using strategies to increase independence and promote productive time management skills (including a to-do list), your Learner will practice organizational skills, "task batching," and improve their productivity.
Time Management: Multitasking: Learners will practice balancing more than one task while working at the movie theater concession stand.
Time Management: Interruptions and Distractions: Learners can practice combining their organization and multitasking skills with the added challenge of customer distractions.
Consider pairing with: the 6 Find Your Bus lessons to help your Learner work on even more independent living skills.Find these new lessons in the Community & Daily Living category once you have the latest version of Floreo! If you haven't yet had a chance to download the latest version of Floreo, it's a good time to do it! You can find it in the iOS app store by clicking this link. If you have Floreo rental equipment, make sure to turn it on, connect it to WiFi and let the update download before opening the app.
If you haven't yet subscribed to Floreo, we would love to discuss subscription options with you. And if you or your staff would like to talk through the new content or any of the changes we've recently made, please reply to this email to set up time to speak to a member of our team!
---
Funding ideas

HOW CAN WE HELP YOU GAIN FUNDING FOR FLOREO?
We know that budgets can be tight and we want to help get Floreo into the hands of anyone who needs it! If we can help write up your DonorsChoose application (teachers) or provide information for a grant you have identified (anyone!) please let us know.
IDEA and Title I funds are also great sources to help you access a Floreo subscription. As you start thinking about budgets for 2023-24, consider adding in Floreo!
---
What have we been reading this week?
NEWS ROUND-UP