It's hard to believe that it's been a year since I wrote this piece about our journey at Floreo. So much has happened since then as our company continues to gain momentum and find new ways to support neurodiverse Learners. From our profile in the New York Times about how we are reshaping VR and telehealth, to closing our Series A funding round, to our first payer partnership with CareSource, we have seen the promise of our vision—a world that is open and accessible for every neurodiverse person—translated to real world results.
Just before the start of Autism Acceptance Month, the U.S. Centers for Disease Control and Prevention released a report that concluded that the prevalence of children diagnosed with autism is growing. In 2020, roughly 1 in 36 children under the age of 8 received a diagnosis, up from 1 in 44 two years prior, according to the CDC findings. In 2000, the figure was 1 in 150 children. In its report, the CDC said that because the pandemic led to an undercount of diagnosis, its latest figures do not likely capture the total figures. So our work could not come at a more important time. Read more.
---


Huddle Up for Autism
IN-PERSON EVENT
The Floreo team was so excited to return to the Philadelphia Eagles' Huddle Up for Autism event. We were lucky to participate in this very special event prior to the COVID-19 pandemic, and it was so wonderful to see it back in action this year!
A big "Hello!" and "We're glad to have you!" to all of the new families who joined this email list at the event. If you are interested in using Floreo at home with your Learner, you can subscribe here. Or, simply reply to this email and a member of our team will be happy to answer any questions you have!
---
Exciting opportunity for educators
FLOREO IMMERSIVE LEARNING PROGRAM
We are thrilled to announce the Floreo Immersive Learning Program, a unique opportunity for schools to bring Floreo to neurodiverse students.
In collaboration with Meta, the program is for neurodiverse students ages 13 and above and includes free Meta Quest 2 headsets for schools. In addition, we are providing a Floreo Classroom Bundle for the low setup cost of only $500 through the 2023/2024 school year for participating schools.
Please share with your favorite educators and schools, including in-school service providers. We are so excited to help get more technology into the hands of very deserving schools. There is a short application process and schools interested in learning more can visit the link below.
---
New Partnerships
THE FLOREO COMMUNITY CONTINUES TO GROW
A warm welcome to our newest partners at Julian Union School District (CA) who just signed up to begin their Floreo program. We look forward to helping you serve the needs of your students and community!
Are you ready to join the Floreo family? We would love to discuss implementation in your school, district, or practice!
---
Amplifying Autistic Voices
FLOREO'S LEAD SELF ADVOCATE
Floreo Advisor and Lead Self Advocate, Sam Farmer, is an autism spectrum community self-advocate, writer/author, and public speaker.
Sam recently participated in a lively discussion with Jackie Coursey of Sacred Space Coaching. Sam shares: "This was a lively discussion which covered a variety of topics including workplace success stories and challenges, my vision for lasting and successful workplace neurodiversity, services that match neurodivergent talent with companies looking to hire them and my book "A Long Walk Down a Winding Road."
---
In case you missed it...
NEW OPTION FOR CLINICS
Last summer, Floreo sponsored the application for a new CPT III Code that went into effect January 1, 2023. Code 0770T is an add-on code that represents the practice expense for the software used for the VR technology and may be reported for each session for which VR technology is used. VR technology is incorporated into the base therapy session and is used to enhance the training or teaching of a skill upon which the therapy is focused.
If you are interested in incorporating this CPT III code into your practice's billing procedure, please let us know. We have some tips for outreach that may be helpful for you.
---
Events
MEET THE FLOREO TEAM AT UPCOMING EVENTS
If you are attending any upcoming events, let us know, we would love to set up time to meet with you!
We had a great time at ViVE in Nashville! It is so inspiring to hear stories from providers, practitioners, and other healthcare innovators. Big shout out to the colleagues who shared our space in the NIH Pavilion!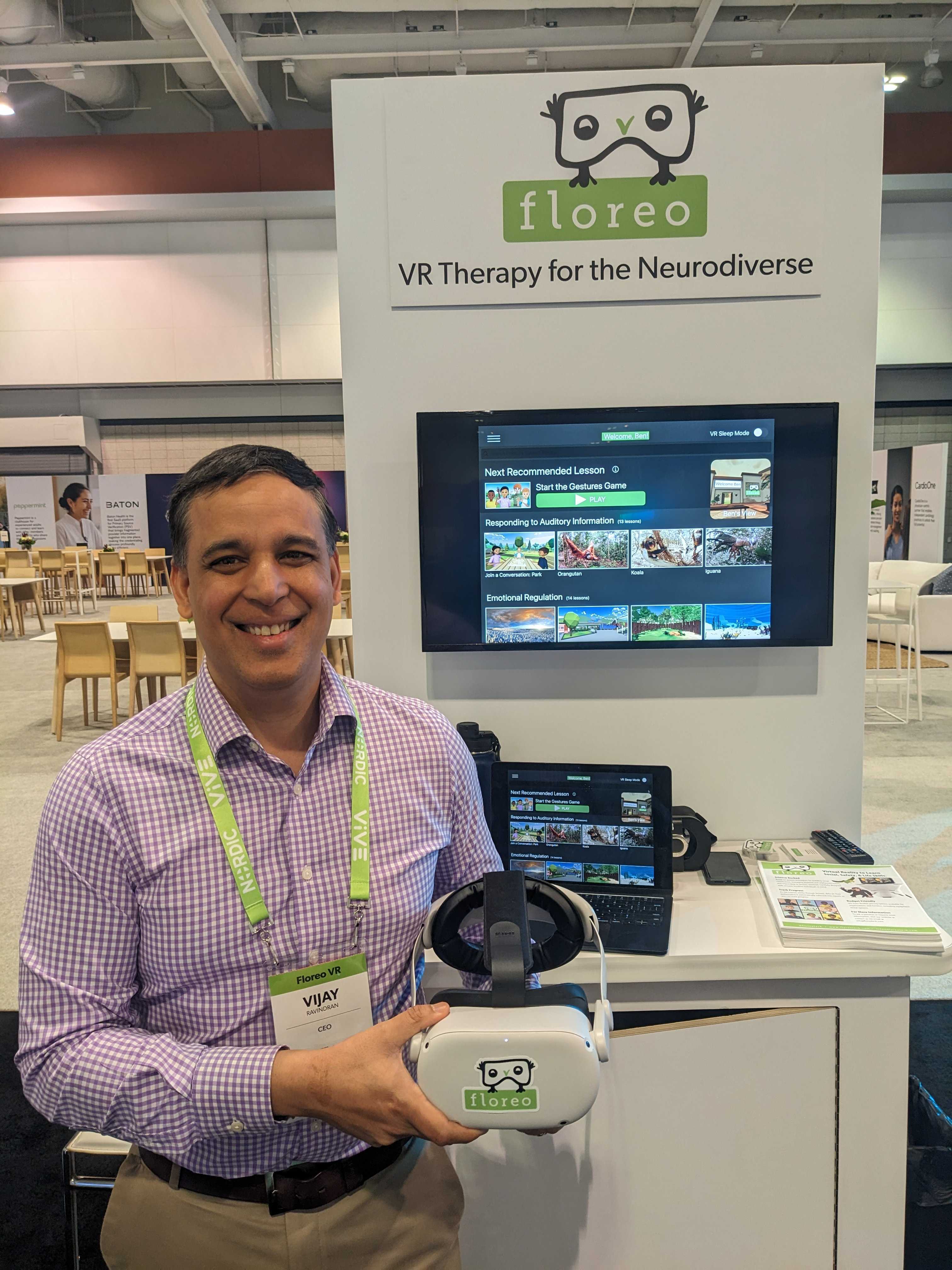 ---
Funding ideas

HOW CAN WE HELP YOU GAIN FUNDING FOR FLOREO?
We know that budgets can be tight and we want to help get Floreo into the hands of anyone who needs it! If we can help write up your DonorsChoose application (teachers) or provide information for a grant you have identified (anyone!) please let us know.
IDEA and Title I funds are also great sources to help you access a Floreo subscription. As you start thinking about budgets for 2023-24, consider adding in Floreo!
---
What have we been reading this week?
NEWS ROUND-UP