As we drive forward with Floreo's vision of a world that is open and accessible for every neurodiverse person, we are excited to unveil our
new website
and logo that went live today.
Our new design reflects the vibrancy of the community we serve and showcases Floreo's pioneering technology. We are grateful to all of the Learners, practitioners, educators, and families who have been with us during our journey to-date. We would love to hear what you think of our new look!
Contact us.
In case you missed it...
HOW THE METAVERSE IS TRANSFORMING EDUCATION
Meta's President of Global Affairs, Nick Clegg, wrote a great piece on how the metaverse can transform education and highlighted our work with the Setanta School in Ireland as an example of how virtual reality can make a difference for students and how our research has shown "improved emotion recognition, social attribution, and executive function", and led to "a positive change in participant skills related to… interactions, use of eye contact, and initiation of interactions".
New lessons
NEW WILD IMMERSION LESSONS
New Lessons: Dolphin, Lion, Sea Turtle, Chimpanzee
Who it is for: Learners of all ages
What's new: As part of our continued partnership with Wild Immersion, we are excited to announce the release of four new lessons! You will find Dolphin, Lion, Sea Turtle, and Chimpanzee in the Responding to Auditory Information skill category. Your Learner can see the 360-degree videos featuring real animals and listen to some fun facts about these animals. After your Learner listens to the lesson voiceover, use comprehension questions to assess the Learner's ability to attend to the information presented. Your Learners may also just enjoy getting to be close to the animals!
Consider pairing with: The Listen & Find lessons in Responding to Auditory Information for more practice listening to and retaining information.

Find these new lessons in the Responding to Auditory Information skill category once you have the latest version of Floreo! If you haven't yet had a chance to download the latest version of Floreo, it's a good time to do it! You can find it in the iOS app store by clicking this link. If you have Floreo rental equipment, make sure to turn your devices on, connect them to WiFi, make sure the Floreo app is completely closed, and let the update download before opening the app.
Reminder that you will need to have iOS 15 installed on your iPad and iPhone in order to download the latest version of Floreo.

If you haven't yet subscribed to Floreo, we would love to discuss subscription options with you. And if you or your staff would like to get a refresher training or talk through the new content, please contact us to set up time to speak to a member of our team!
New Partnerships
THE FLOREO COMMUNITY CONTINUES TO GROW
A huge congratulations to Santa Ana Public Library (CA) for renewing their Floreo program for another year! We look forward to continuing to help you serve the needs of your community!
Are you ready to join the Floreo family? We would love to discuss implementation in your school, district, or practice!
Exciting opportunity for educators
FLOREO IMMERSIVE LEARNING PROGRAM
We are thrilled to announce the Floreo Immersive Learning Program, a unique opportunity for schools to bring Floreo to neurodiverse students.
In collaboration with Meta, the program is for neurodiverse students ages 13 and above and includes free Meta Quest 2 headsets for schools. In addition, we are providing a Floreo Classroom Bundle for the low setup cost of only $500 through the 2023/2024 school year for participating schools. And we're so excited that 30+ school districts have already taken advantage of this program.
Please share with your favorite educators and schools, including in-school service providers. We are so excited to help get more technology into the hands of very deserving schools. There is a short application process and schools interested in learning more can visit the link below.
In case you missed it...
NEW CPT III CODE FOR CLINICS IS LIVE
Last summer, Floreo sponsored the application for a new CPT III Code that went into effect January 1, 2023. Code 0770T is an add-on code that represents the practice expense for the software used for the VR technology and may be reported for each session for which VR technology is used. VR technology is incorporated into the base therapy session and is used to enhance the training or teaching of a skill upon which the therapy is focused.
If you are interested in incorporating this CPT III code into your practice's billing procedure, please let us know. We have some tips for outreach to your payers that may be helpful for you.
Events
MEET THE FLOREO TEAM AT UPCOMING EVENTS
If you are attending any upcoming events, let us know, we would love to set up time to meet with you!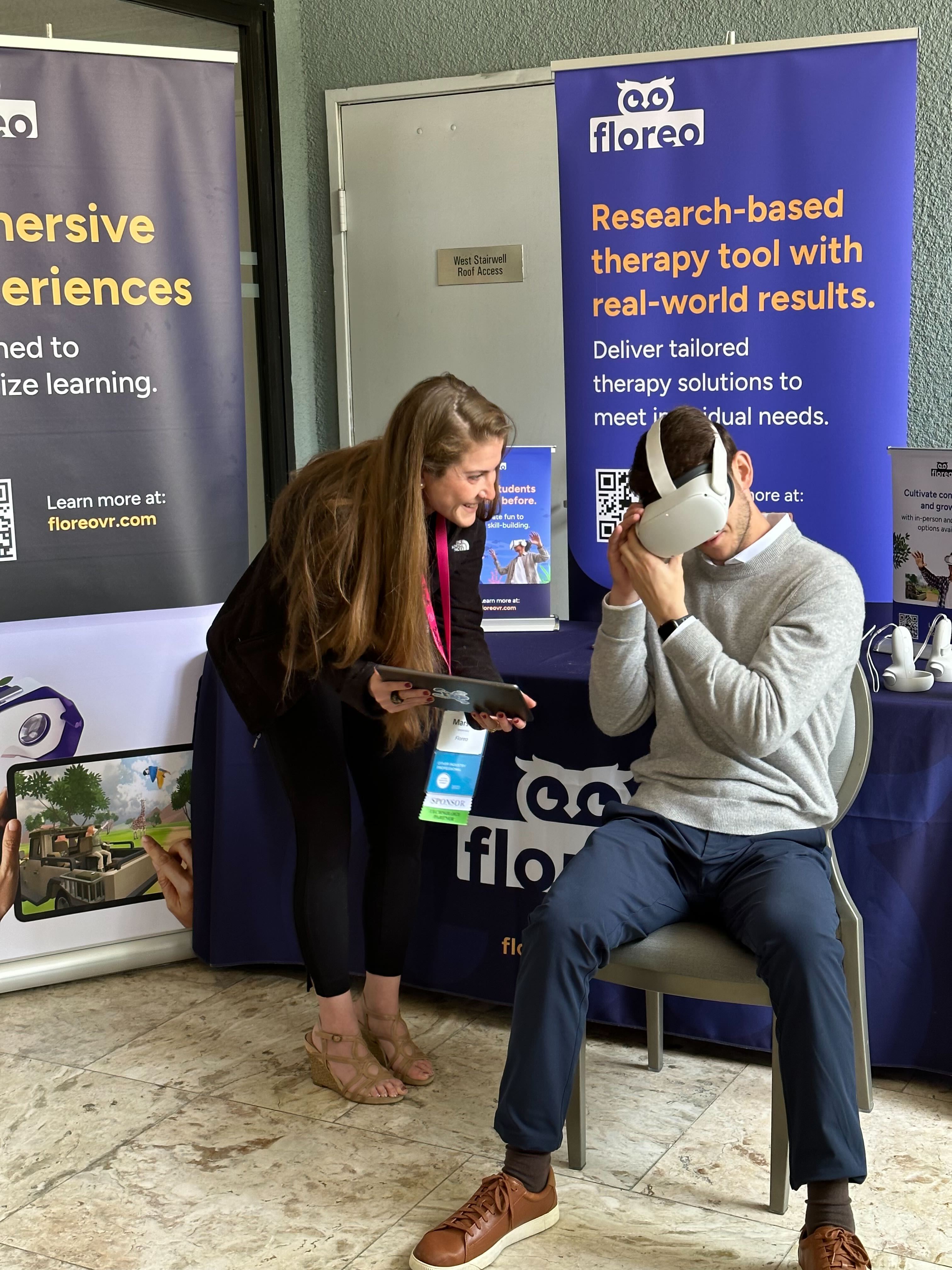 Funding ideas

HOW CAN WE HELP YOU GAIN FUNDING FOR FLOREO?
We know that budgets can be tight and we want to help get Floreo into the hands of anyone who needs it! Please let us know if you need help writing up your DonorsChoose application or with information for a grant you have identified.
IDEA and Title I funds are also great sources to help you access a Floreo subscription.
What have we been reading this week?

NEWS ROUND-UP
Stay connected with us

DON'T FORGET TO FOLLOW US
Were you forwarded this email? Sign up for our mailing list to ensure you get all of our updates!