We are thankful for our Floreo community throughout the year, but especially so during this season of gratitude. We appreciate all of your support: your kind words about new lessons (and your constructive criticism too!), every "like" on a social media post, and every time you mention Floreo to a family, educator, or clinician who can benefit from all that Floreo has to offer.
We look forward to bringing more exciting new lessons and features to our Coaches and Learners in the next year. Thank you for your continued enthusiasm around our work!
Floreo "Fireside Chat"
REUNITE THE ANIMALS
Have you played any of our newest lessons yet? Join members of the Floreo team on a trip to Harmony Forest to learn more about one of our new lessons: Reunite the Animals.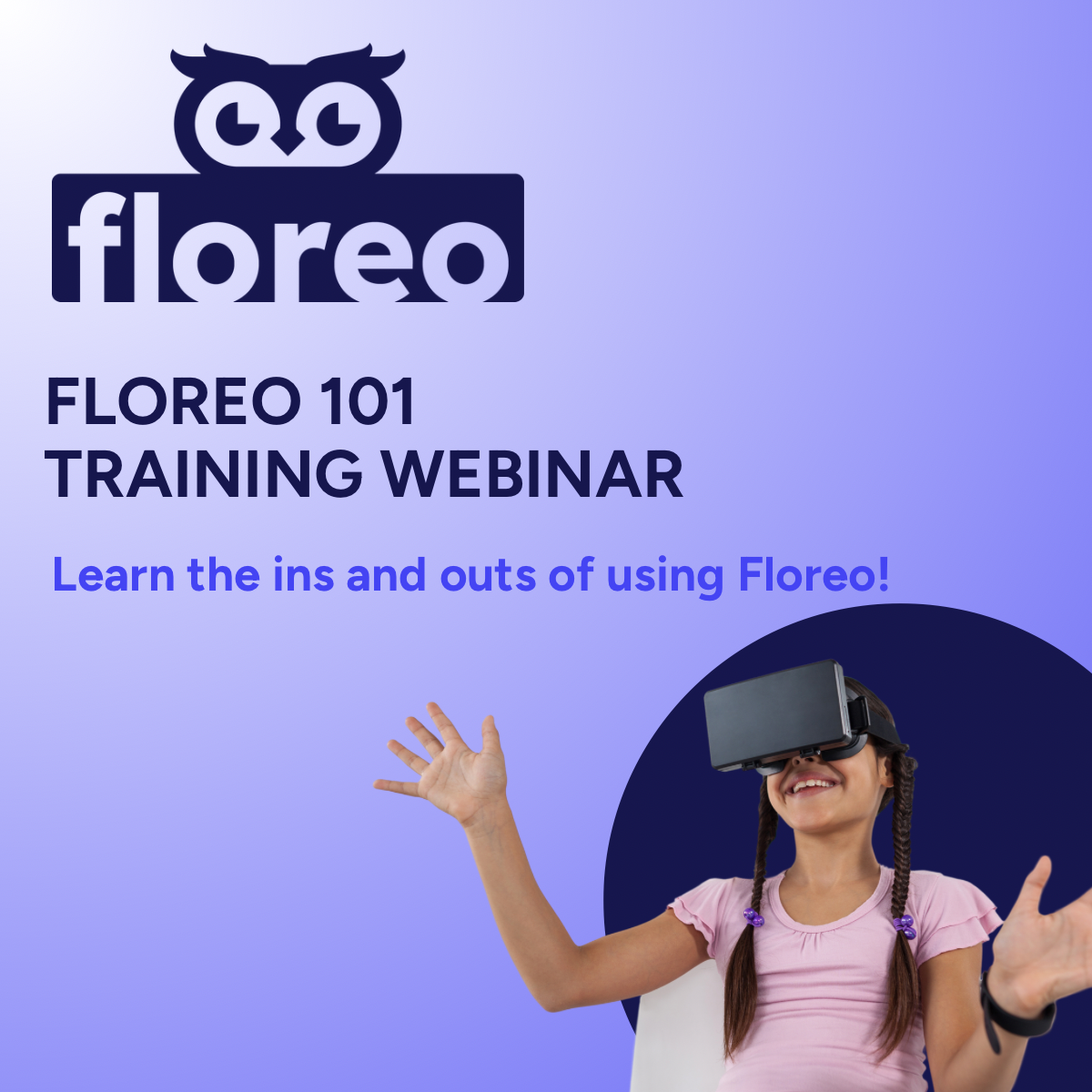 Upcoming webinar
FLOREO 101
Join Floreo's Director of Customer Success, Heather Manning, on November 29th at 12pm Eastern / 9am Pacific for an introduction to Floreo. If you have been considering Floreo and want to see how easy it is to use, are a new customer, or just need a refresher on how things work, this webinar is for you! All registrants will receive the recording of the webinar, so even if you can't join live, please register!
Floreo during the holidays
SUGGESTIONS FROM OUR DIRECTOR OF APPLIED DIGITAL THERAPY
Floreo's Director of Applied Digital Therapy, Rita Solórzano, is a Speech Language Pathologist with over 30 years of experience. She suggests some ways that using Floreo might be helpful during the holidays!
"A variety of holidays are coming up in November, December and January. That means celebratory activities and special events, but along with these celebrations come schedule disruptions both at home and at school. Consider using Floreo as a familiar, comforting space for your Learners to retreat to when things get hectic. The immersive nature of the Floreo experiences replaces the unusual sights and sounds of the real environment that a Learner might find dysregulating. Floreo can even travel with Learners on school field trips or family trips. Explore the various experiences in the Emotional Regulation skill category for calming spaces or use Learners' favorite lessons to give them their own personal sanctuary."
Upcoming Events
CATCH US AT AN EVENT NEAR YOU
Let us know if you are attending an upcoming event. We would love to connect with you!
New Partnerships
THE FLOREO COMMUNITY CONTINUES TO GROW
A warm welcome to our newest partners at Tayf Aziz Center (Saudi Arabia) who just signed up to begin their Floreo program. We look forward to helping you serve the needs of your clients and community!
Are you ready to join the Floreo family? We would love to discuss implementation in your school, district, or practice!
Attention Medicaid Families
FLOREO SUBSCRIPTIONS MAY BE COVERED
Did you know that in Wisconsin and New York families on Medicaid waivers initiated full reimbursed coverage of Floreo in the home?
If your family receives services in your state using a Medicaid waiver, you might be able to get a Floreo subscription (including equipment rental) fully covered by your state program. Reach out to us, and let's work together to see how we can get Floreo into your home and start making a difference for your Learner.
Funding ideas
HOW CAN WE HELP YOU GAIN FUNDING FOR FLOREO?
We know that budgets can be tight and we want to help get Floreo into the hands of anyone who needs it! Please let us know if you need help writing up your DonorsChoose application or with information for a grant you have identified.
IDEA and Title I funds are also great sources to help you access a Floreo subscription.
What have we been reading this week?
NEWS ROUND-UP